This song touches on key events in the history of the MUA, and direct action taken by that union in the interests of peace and justice. It was written by Walter Pritchard, Katie Newfield and Jonathon Snook, and is one of the songs featured in Walter's musical play, "The Mayday Queen of the Scarlet Belt".  I arranged this for a small choir, with the chorus in full part harmony, and the verses mostly in unison, with a bit of 2 part harmony.
For context, a detailed, if imperfectly written, history of the MUA, well worth a read, can be found here.
Peace and social justice issues addressed by the union include opposing conscription in both the First World War, and the Vietnam War, as well as, "advocating for Aboriginal rights, opposing apartheid in South Africa, opposing the Vietnam War, and participating in the nuclear disarmament movement."
Another issue was the opposition to sending pig iron to Japan, when Japan was invading China, immediately prior to the 2nd World War, the issue which gave rise to the Dalfram dispute, and Robert Menzies infamous nickname, "Pig Iron Bob".  All this, as well as the union's core activities, advocating and fighting for workers' rights.
But back to the song, which references many of these events and issues.
Sheet Music: (.pdf) (Scroll down for .jpg)
The song was written in the key of G, but the arrangement, as sung by the Illawarra Union Singers, sits comfortably in A. A capo on the 2nd fret, allows for the guitar shapes and patterns from the G music to be effectively played in A.
Key of G
Key of G: Cropped
Key of A
Key of A: Cropped
The cropped sheet music allows for a bigger printout; choose "Fit", or "Fit to printer margins" in the print options. If this doesn't work for you, choose the non-cropped version.
Here is the original sheet music that I used as starting point for this arrangement.
Practice Tracks
These are all in the key of A.
Soprano (Chorus Only)
Alto (Sung)
Tenor (Sung)
Bass (Sung)
All Parts: Instrumental
-and as a reference point, the original demo  track, sung by Kate Newfield and Jonathon Snook, in the key of G.
Here is the sheet music, in G.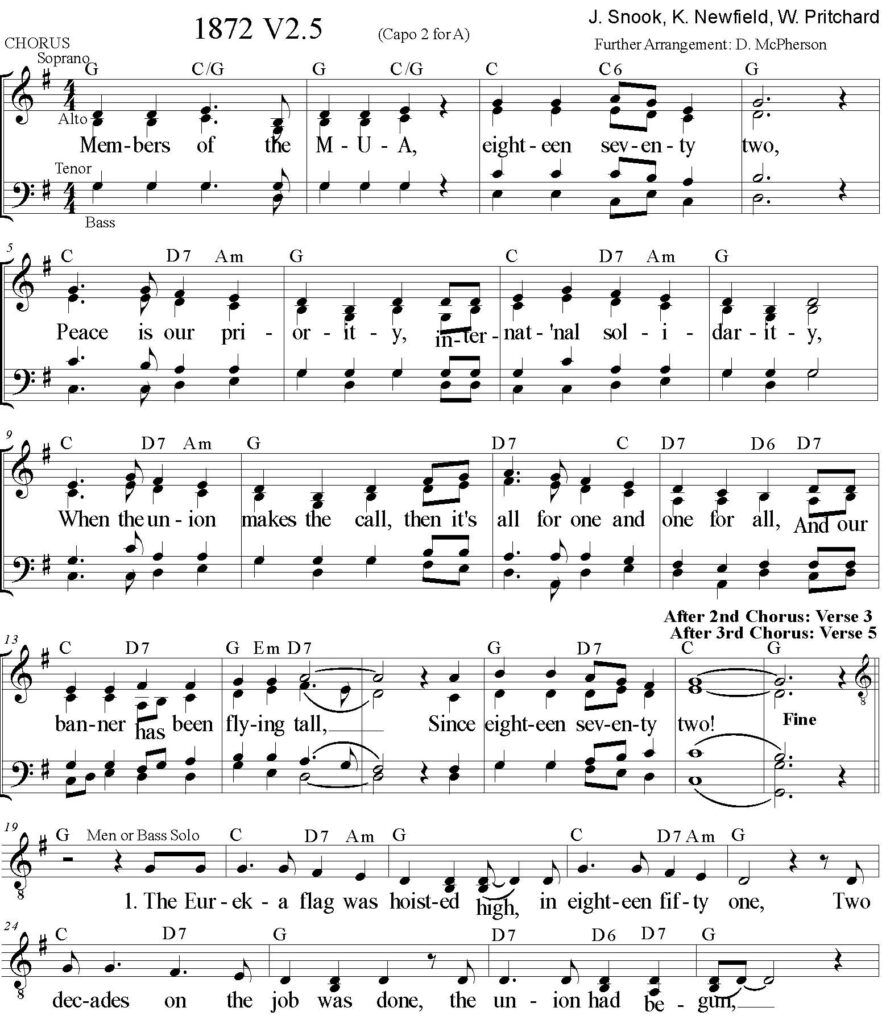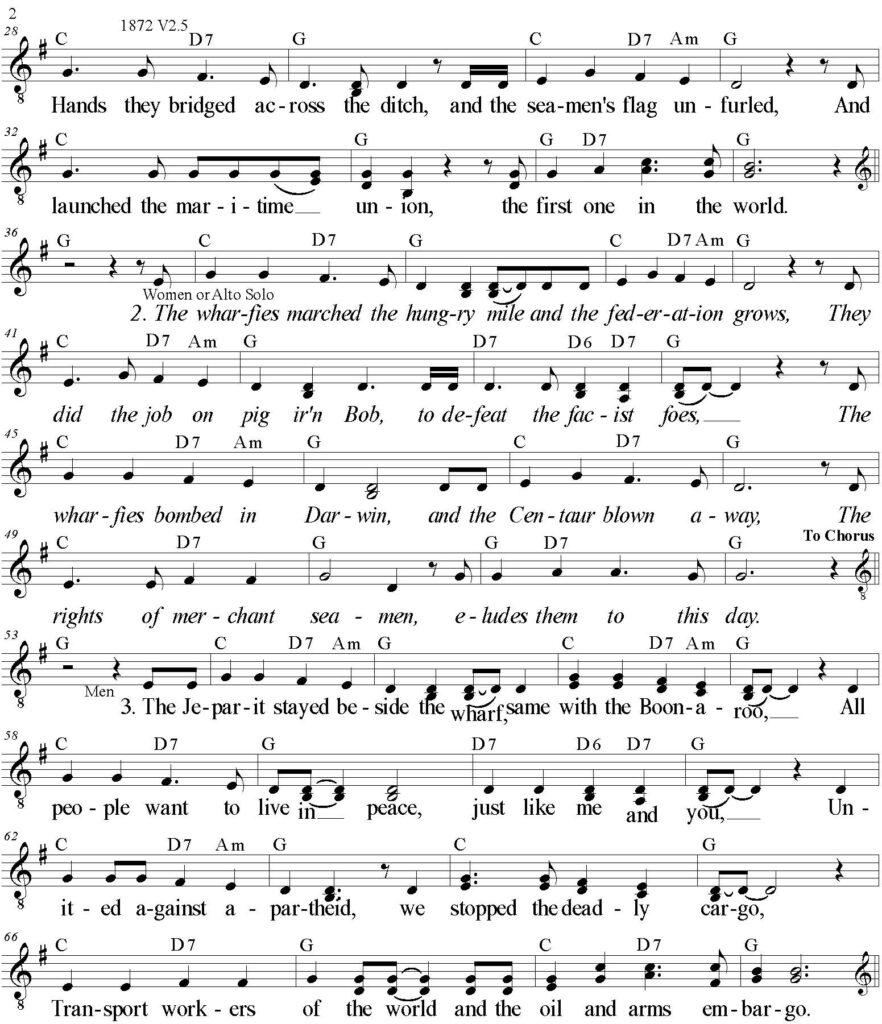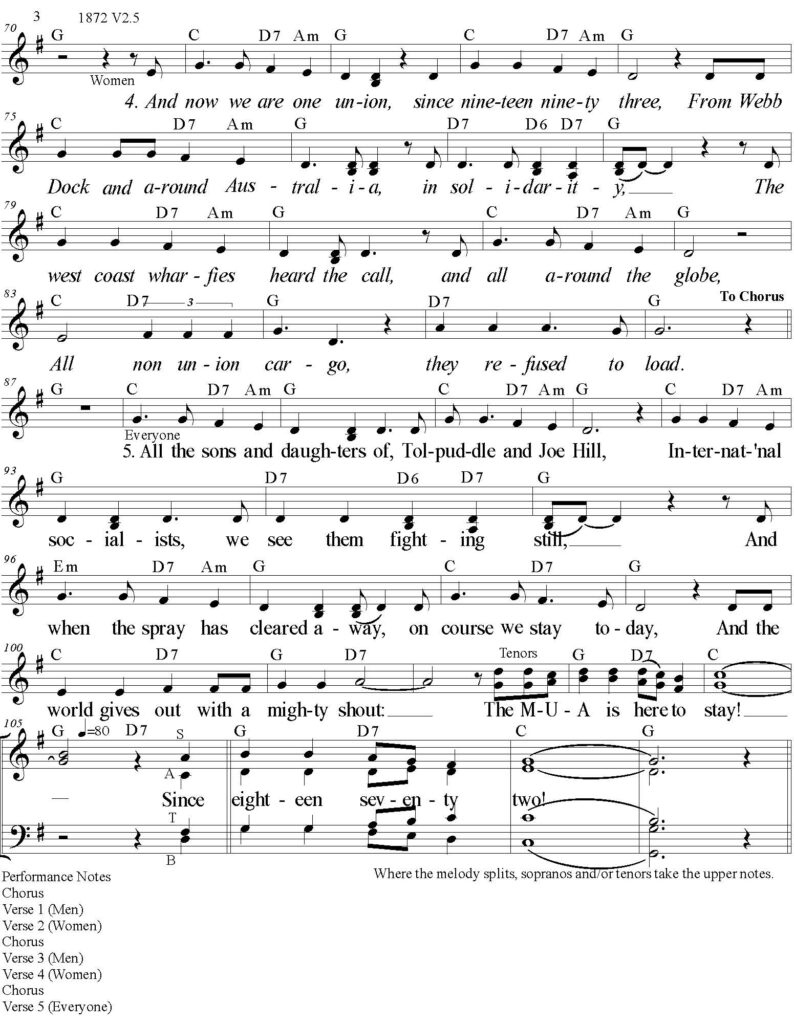 Here is the sheet music, in the key of A, in accordance with the practice tracks.