(If I had a hammer) Scroll down for the sheet music and practice tracks.
An arrangement for the Union Singers, of the song originally by Pete Seeger and Lee Hayes. -From an arrangement by Tom Bridges, for 4 voices, all 4 verses.
In many ways the definitive arrangements must be the Weavers renditions, both songwriters being in the group, and this "folk-swing" feel is what I'm after.  Here are two Weaver's recordings of the song: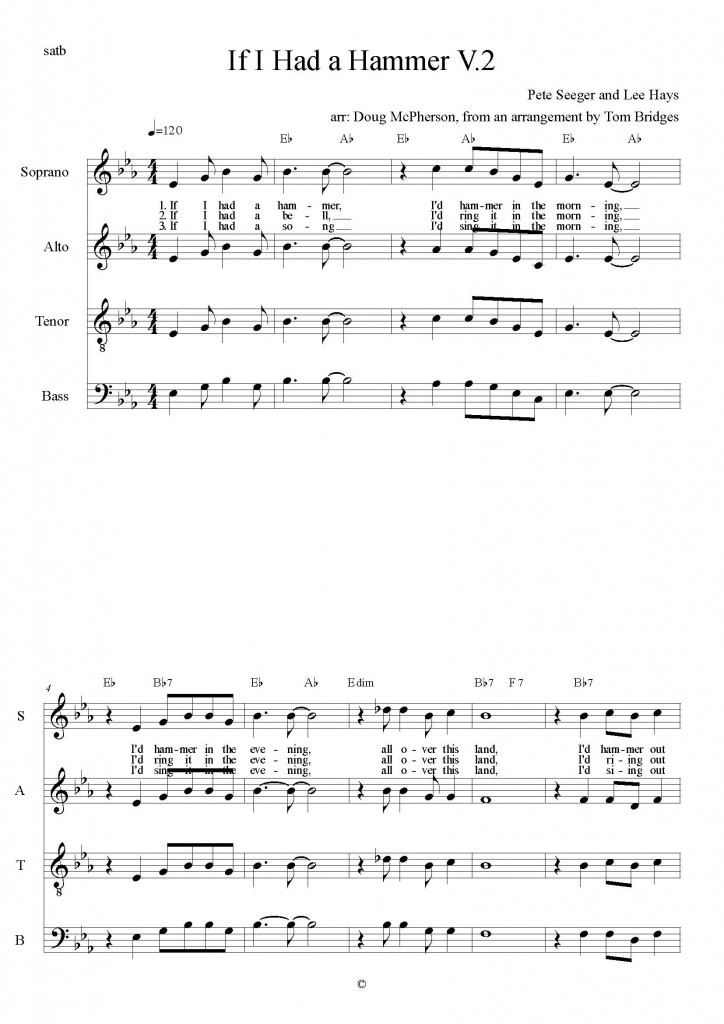 Sheet Music:
Download the sheet music, in the original key of E flat, as a .pdf file here!
Download the sheet music, in the key of D, (for guitarists, capo on the1st fret to play along with the E flat practice tracks), here!
Guitarists' version of the sheet music  with just the melody line and chords (The missing lyrics in the last verse, "it's the hammer of" are assigned to the bass and tenor voices in the original.)
Key of D (Capo 1st fret to play with practice tracks).

A suggested practice strategy is to practice your part on it's own, and then against an "all parts" track.
Practice Tracks:  Click Here to Download
These first 2 tracks are in straight 4/4 time.
All Parts, (no vocals)
Soprano Practice track (with vocals)
The next tracks are in "swing" time.
Soprano/Melody (vocals)
Soprano/Melody (no vocals)
Alto (without vocals)
Tenor (vocals)
Tenor (without vocals)
Bass (vocals)
Bass  (without vocals)
All Parts (vocals)
All Parts (without vocals)
Another guitarists' version of the sheet music is here, with just the melody line. (The missing lyrics in the last verse, "it's the hammer of" are assigned to the bass and tenor voices in the original.)