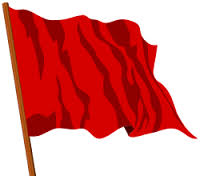 "Bandiera Rossa (Italian for "Red Flag"), often also called Avanti'o Popolo after its opening words, is one of the most famous songs of the Italian labour movement. It glorifies the red flag, a symbol of the socialist and communist movement. The text was written by Carlo Tuzzi in 1908; the melody is taken from two Lombard folk songs." (Wikipedia)
I don't know the original source of the arrangement I'm presenting here. The song could be sung in unison, but I've separated it out into 2 parts throughout, with chordal accompaniment.  In the "score", with both parts, the melody is the bottom line, most probably sung by bass and alto voices. The harmony line is the upper line, most probably sung by soprano and tenor.
Latest Version, Version 4.4
Key of D with Key Change to E
Sheet Music:
Most sheet music on this site is tightly cropped, to maximise the print size. Look for a setting that says "Fit", or "Fit to Printer".
Practice Tracks:
Both Parts
Earlier Versions:
Key of E, with Key Change to F#
Sheet Music: Both Parts
Sheet Music: Melody
Sheet Music: Harmony
Practice Tracks
Both Parts
Melody
Harmony
Union Singers: Live in Rehearsal
If you have problems downloading or listening to these files let me know.  Use the comments boxes below.
And finally, a couple of renditions from YouTube:
The second version is by the Slovenian punk group, Pankrit. It's different in all sorts of ways, but it has got a key change! Enjoy! Let me know if you would like this arrangement in a different key, and as always, let me know if I have accidentally breached any copyright.