This song, written by Jim Sharkey, a member of the Illawarra Union Singers, was born out of the Covid 19 pandemic. Jim writes,
I had the music & words for this song in my head while my wife and I were in Yackandandah in March 2020. We had been to the Port Fairy Folk Festival. Sadly, the Yack Festival was cancelled, due to COVID. We met with locals at the Star Hotel & enjoyed the company of Pete Denahy along with other performers. I woke at around 1 am, went to the camp kitchen & recorded the tune & words for this song. I also recorded 'I'm on a Roll' (aka The Toilet Paper Blues)*. "We'll Stand…" was my way of offering reflection & support for what I knew was to come, having been a nurse + studied Epidemiology at Uni. As a chorister, I felt this song would resonate, particularly during times of isolation. Singing has given me joy. The company of fellow singers is always both challenging & rewarding.
Jim brought the camp kitchen demo to me, and I harmonized and arranged it for the Illawarra Union Singers. I split the melody, alternating between the sopranos and altos. Later, to strengthen the melody, I added a separate solo melody line, to be sung by a soloist. In our choir, the Illawarra Union Singers, this is sung by Jim.
Ideally, this melody could be sung by a female  voice; if sung by a male voice, this creates an occasional parallel 5th and a  lack of melodic distinction in the arrangement. Still, as Frank Zappa said, having unbreakable rules makes for boring composition; and Jim's rich, distinctive voice creates the needed separation in our choir. The instrumental demo track with all parts has the melody in the higher octave. The sung melody track is sung by a male voice.
The 1st verse is for a solo voice, and the 2nd in unison until it breaks out into harmony in the final phrase. The 4 part SATB harmony is then written in 2 staves, similar to how traditional hymn music is written. In a couple of spots with alternate bass notes, by preference, use the bottom notes.
Sheet Music (.pdf)
Sheet Music -Cropped (.pdf)
Here is sheet music for a melody only lead-sheet:
Sheet Music, Melody: (.pdf)
Sheet Music, Melody -Cropped (.pdf)
The cropped sheet music will look slightly bigger on screen. Also, if you open the cropped sheet music in Adobe Reader, and select "Fit" in print settings, you will get a slightly larger printout. If this doesn't work, use the 1st uncropped sheet music.
Practice Tracks
The sung practice tracks are for guidance. They are not meant to be "performances", or even what are sometimes described as "demo tracks". Instructions on how to download practice tracks from this site can be found here.
Melody, (sung by a male voice)
All parts, with melody, (instrumental, melody violin)
Soprano -in S/A Staff (Flute Sound)
Alto, (Voice, without unison verse)
Tenor Harmony (Sung)
This track includes the 1st verse melody,  2nd unison verse, and solo vocal at the beginning of verse 4 as well.
Bass (Sung)
This includes the 2nd unison verse as well.
Here is the sheet music in .jpg format: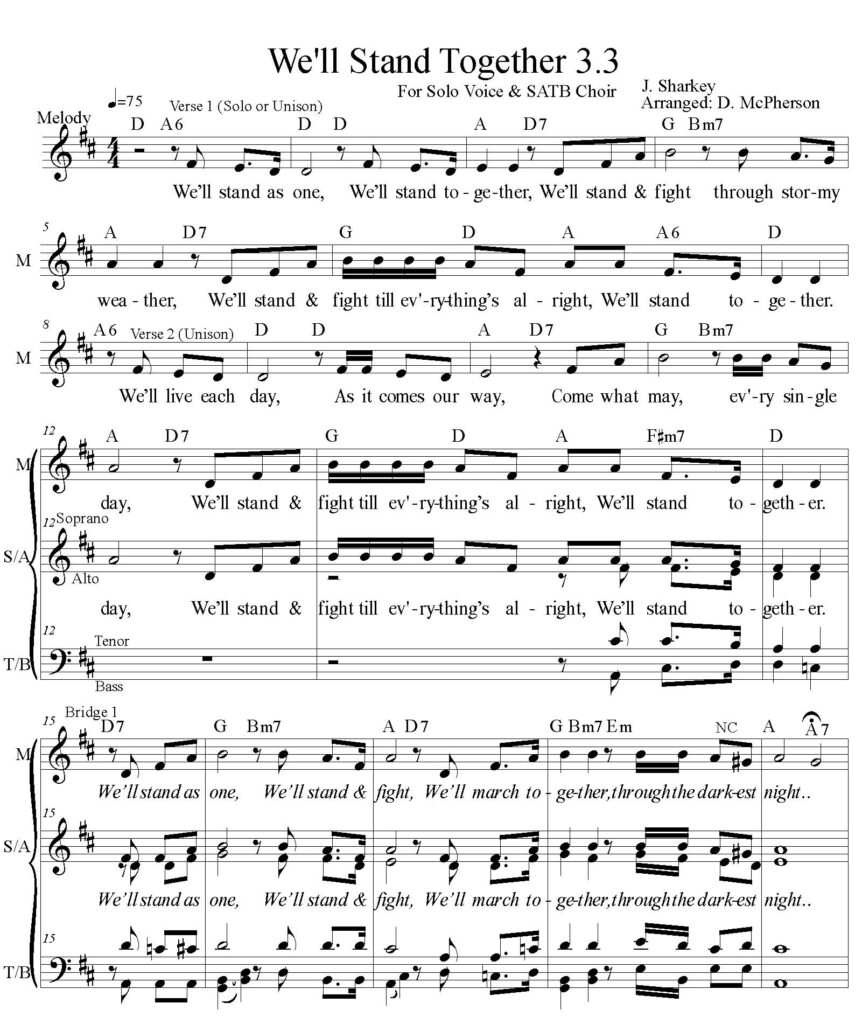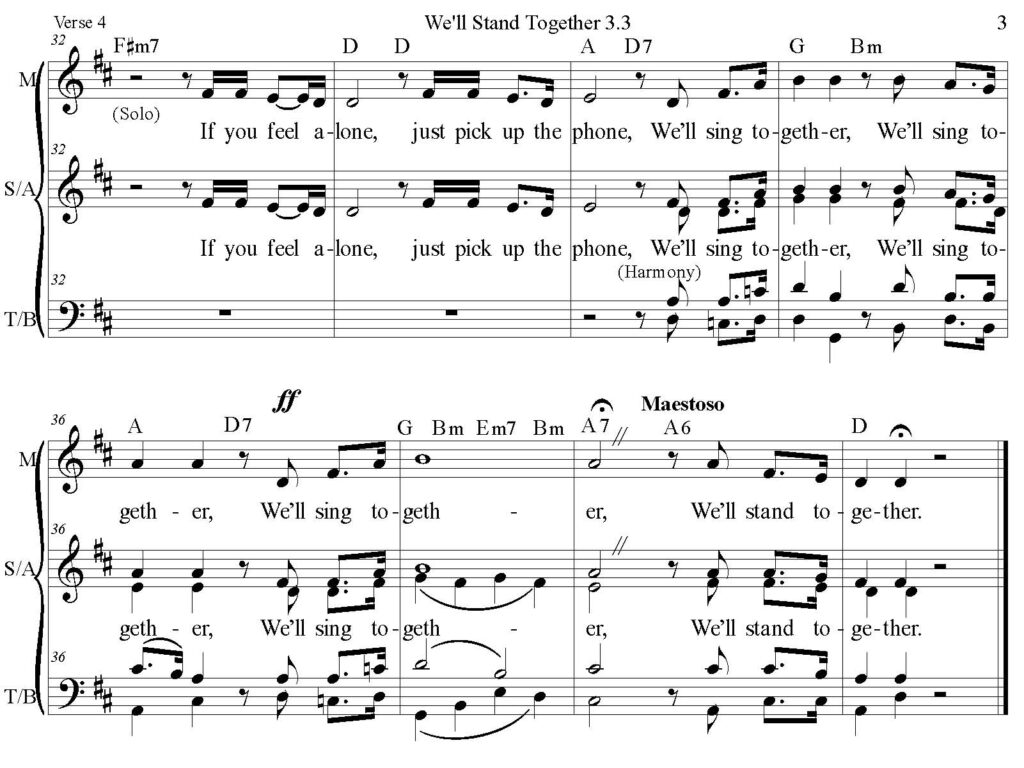 Here is the melody only lead-sheet music in .jpg form: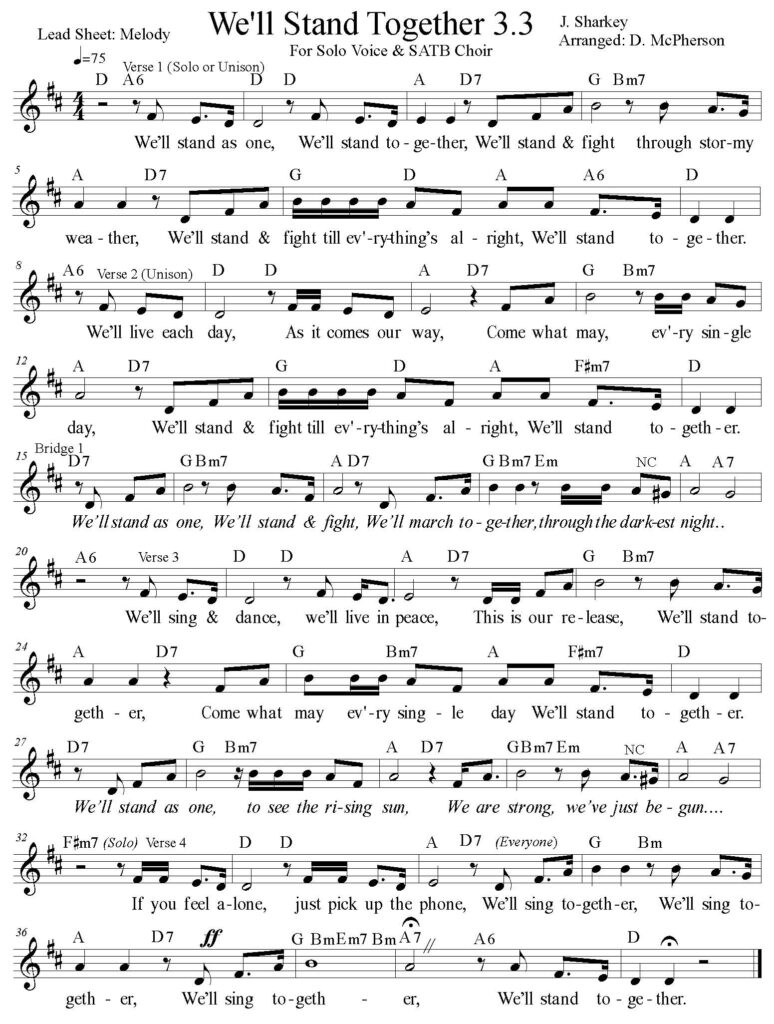 Finally, here is the a compressed music .xml file, of the whole arrangement, enabling the music, created in Finale, to be opened in other notation programs such as the Open Source program MuseScore, and here is a link to the Finale file for the arrangement.
Enjoy!
Doug McPherson
* Also arranged and produced by Doug McPherson