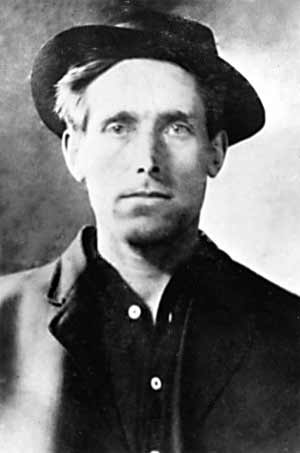 Scroll down for lyrics, sheet music and practice tracks.
Joe Hill, born Joel Emmanuel Hägglund in Gävle, Sweden, and also known as Joseph Hillström (October 7, 1879– November 19, 1915) was a songwriter, itinerant laborer, and union organizer, who became famous around the world after a Utah court (wrongly) convicted him of murder. Even before the international campaign to have his conviction reversed, however, Joe Hill was well known in hobo jungles, on picket lines and at workers' rallies as the author of popular labor songs and as an Industrial Workers of the World (IWW) agitator.
Joe Hill was executed by firing squad on November 19, 1915. When Deputy Shettler, who led the firing squad, called out the sequence of commands preparatory to firing ("Ready, aim,") Hill shouted, "Fire — go on and fire!"
Hill was memorialized in a tribute poem written about him c. 1930 by Alfred Hayes titled "I Dreamed I Saw Joe Hill Last Night", sometimes referred to simply as "Joe Hill".  Hayes's lyrics were turned into a song in 1936 by Earl Robinson, who wrote in 1986, "'Joe Hill' was written in Camp Unity in the summer of 1936 in New York State, for a campfire program celebrating him and his songs…" Hayes gave a copy of his poem to fellow camp staffer Robinson, who wrote the tune in 40 minutes.
*References
---
An arrangement of this song is below. The practice tracks, while containing 7 verses, are based on verse 1, and do not take into account the phrasing required in the other verses. The alto line simply offers alternate, lower notes in the 2nd and 3rd line of each verse.
---
Sheet Music (Music & Lyrics)
Both Parts
Upper Voice: Soprano/Tenor
Lower Voice: Alto/Bass
---
Practice Tracks
Melody/Upper Voice/Soprano & Tenor
Lyrics
Verbatim, with suggested dynamic marking of unknown origin.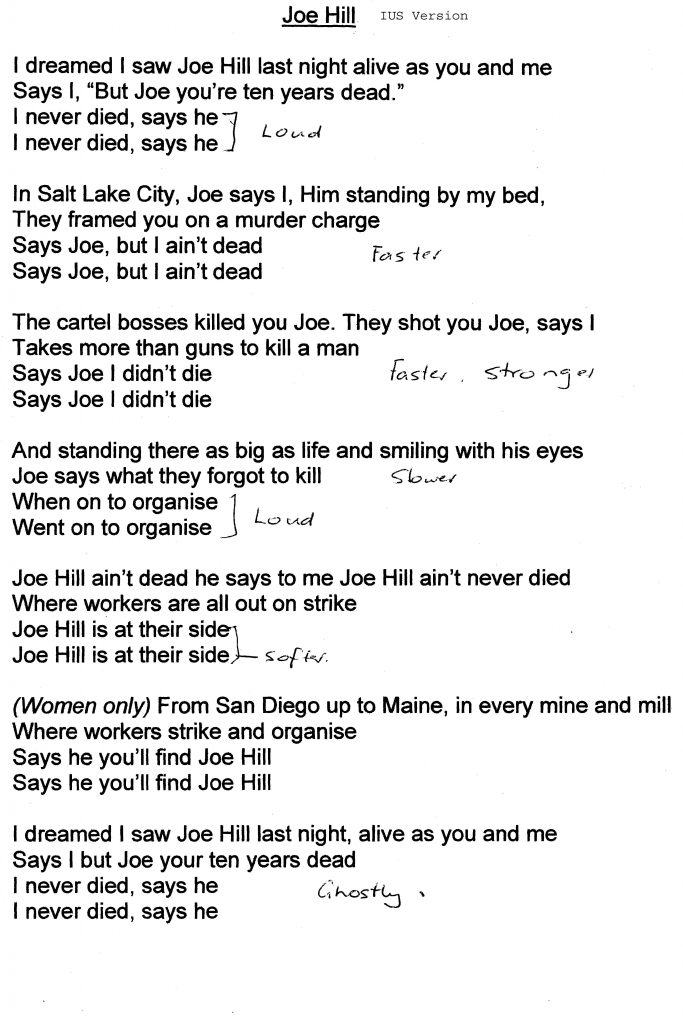 Next,  a definitive rendition of the song by Paul Robeson. I used this harmonic structure, as a starting point for the chords I chose to put in this arrangement.
And finally, Joan Baez at Woodstock, showing off some formidable breath control and singing of sustained notes.
Sources:
https://en.wikipedia.org/wiki/Joe_Hill
http://www.aflcio.org/About/Our-History/Key-People-in-Labor-History/Joe-Hill-1879-1915